About me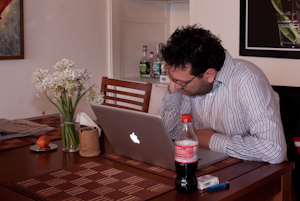 I have been in and out of a classroom as a teacher and student for most of my life and I love teaching and learning new things. I have been working in education since 1998: as a classroom teacher at Centro Colombo Americano, Colegio San Carlos, ABC English and Universidad Nacional de Colombia, as well as a consultant and policy-maker at the Ministry of Education. From March 2008 until June 2015, I was Technology Director at Gimnasio La Montaña (GLM). Since 2015 my role changed to Director of Innovation and Development. A wonderfully interesting position where I have the oportunity to work on many different projects, related to technology integration, but also curriculum development, 21 century skilles, global competency, school infrastructure, and many other topics.
In 2015, I was asked by UNCOLI, an association of private schools in Bogotá to which GLM belongs, to serve as coordinator for Alianza para la Excelencia (APE)-Aulas Sin Fronteras, a project that seeks to help 54 schools in Chocó, a region in the pacific coast of our country. I have been balancing my work at GLM with that of APE since then.

I hold a Master's degree in Education from the Harvard Graduate School of Education and an undergraduate degree in Spanish Philology from Universidad Nacional de Colombia. I have been succesful in using educational technology to scaffold innovation in educational settings and improve the quality of teaching, learning, assessement and administration in our school. I believe learning how to use technology to communicate, research, create, make decisions and ultimately learn continually is critical to the success of any society and a responsibility of every school. GLM has shared this view since the inception of it educational technology program in the 2008 year.
You can navigate through this site using the top menu to find out more about my interests and work or use the search box if you know what you are looking for. You'll find some samples of my work, as well as my two blogs: vitacora, my personal weblog, and edgeek, my blog about educational technology. If you wish to see some pictures, visit my Flickr account or the Photos section of this website (I'm back on Flickr). I've also published a couple of my presentations on Google Video, some other things on eSnips, Prezi, multiple discussion boards and many publishing/social sites on the web I just can't track.
If for some weird reason (you're stalking me) you wanna check out the stuff I've bookmarked on the web, just visit my shared bookmarks. No, seriously, you might find useful stuff if you share any of my interests and bear with my chaotic tagging.
nando (at) post dot harvard dot edu
PGP Fingerprint: F7FD 0A77 2C90 D671 BF5F 4569 0399 4274 4EDB C50F
-----BEGIN PGP PUBLIC KEY BLOCK-----
Version: GnuPG v1.4.9 (Darwin)

mQENBEtQnzwBCADLqx9PTabebB42Pary/12uQILmsbiHqFEcyzJ1olWNp223uaP9
kbvYvzq7xxOkhbC4QIFLw/Rp2TcEOaJvnkU4ErdVRKe1+nCrF3fJykI0SBL4hEjA
i3aDAaJ5TN7/9VV0QZUpN1nZKOxq8hTdLT+/26dJN/Cd9VFZkm/AvnYlIOayK4SY
YA0DcJXzPSW26pQBr/GhdxE4VNC1QpQP63BMsWeQiLcRNSKoep9iJm+PlRW09q1C
47mEeZK0Sa3oI9RJpVY2+eCkBMB09PrIRuP/1shso5+D49UxwsSNGVfa3UG3QX3H
6rcexRJ+9QOdT/0srpkic9DV7tbsTRrgaF5LABEBAAG0P0Zlcm5hbmRvIETDrWF6
IGRlbCBDYXN0aWxsbyBILiAobmFuZG8pIDxuYW5kb0Bwb3N0LmhhcnZhcmQuZWR1
PokBNgQTAQIAIAUCS1CfPAIbAwYLCQgHAwIEFQIIAwQWAgMBAh4BAheAAAoJEAOZ
QnRO28UPwv8H/isye1nWFmFDbV9chNsjK5r8LkAhPl0ISzlHkNXUOGfe49TdqWGv
pETNpNB1eOLcgdVr3RDDbuV1ytSicROlhrOYsqjxdOpUskL5cbFgbMRLhHe3nJCk
nKm8lcc2/4DosY8IHmJFACpCjDiLjTietRo0OUQPLV40aemlszkz3sWoDnmji1G+
WgLm1R/M0kP5GyNzRYe3HuN+SBgSjrztIzYgkLYos76UuX417B+tbf46PTOQdU1q
mX4HCrXxxMbgyywZOjOk2+YdHXSg30bHS0XGYJ/7uOBlVyUZ/OlVGst4yBvQa406
1quRjaS1rAP2avejFtDBdv6G4MPYVO0Q7em5AQ0ES1Cf7AEIANGfMjMc4JQ9tfmH
TP6k7MZS/t9Ia4k1vOsE4uKRfMV91ZzvffwxBtyVrEUEkIMOWqcS5zFyU06J3TGI
tc//JBhlDU/TYcfNkOJHrVgvCvSaMrnMb7OYaLikaPr1GZqzoGkYNCMBkO0E48Pp
Iy5hnbTEA1ZiAux+Um4Niv4Fy8QhvldMXX+ulbadnYF5RRe3H9PVKNvYs6iAlq7B
nkle32dJj651olWsWtwp9VHsbXXfXzXAcpqboXn/0skGLhgW5Qq9EdPpNusy7bf7
AUPRhW/kadsWZj9thYuFUT/OANPoYZJmZ6zfHTMtidgiu0WH3ubD1IgyZXscvAqn
1OpGEP0AEQEAAYkBHwQYAQIACQUCS1Cf7AIbDAAKCRADmUJ0TtvFD63uB/9tvtyv
S0VyZpySb0oItL6I0KMjNHk2zTA9Z8sHZWr1bviZFGyDFnbaK6Msdj/qYrxM3fCm
THBqZaq4eR4qRcWYOEuwi6Xl3s/e056cF1bo7qf1wDviVFknUoTwXWFnEwpxoV6b
pcaVjd30eIHfuOVbl9AqnEeEKIYOBD/pOG/fG97e3t9cDS9yZ6D/H9dwTmztMoMR
477x/zeqyqISvgM6kKzAJW0nUpHaJ7cqdbMH+cTHkesZcFP5tCRiuL9L6nGYUiCu
ntJSGA8aCLSAnYNwi6UXbyz72ZrgJjUAWfIvGYU0w6CxCciJt/zmE/lVABqekhDc
wsFLqXee2P5kwSRv
=M3NF
-----END PGP PUBLIC KEY BLOCK-----